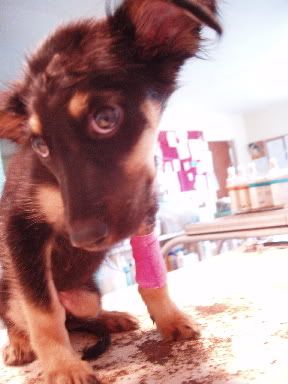 Eat the hokey-pokey, freeze the brain, oh-oh-gasms in the mouth. Yay!
Mm, not only do the Raro men like me, but the Raro women too! Oh sex (and grind, speaking of grind, a-not-so-pleasant experience=being stuck between a Tongan man and a Raro girlie, grinding away on one's person. Tongans are huge, ass fuckers).
A good time is speaking to people about the places you wish to see and learning they have seen those places and highly recommend them. Cha-ching.
We're contemplating an assault on Fiji; mm, two weeks worth of paranoia.
robbery, assault, and rape, oh my!
At least it's a cheap place to be.
Semi-intoxicated walks along the beach at night=much fun. Swimming, not so much, but I didn't partake in the festivities. We talked of the stars and spelled our names by connecting the dots. Next week, I promised to swim (ah, scary).
Cats with rotten ears and eyes, oh these crazy ailments. How they do suddenly pop up.