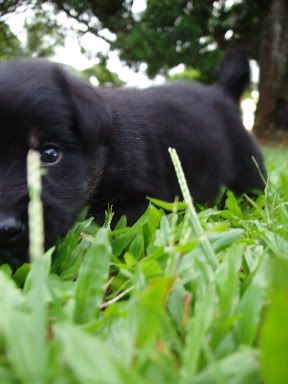 A short, stubby dog has adopted me. Boscoe and I, we eat potatoes in bed. If she's lucky, she even gets meats.
Wake-up call=butterscotch liquor topped off with Baileys. Oh rapture.
We laugh and laugh and laugh.
And I'll be alone again tomorrow night. Oh teh sex, sex, sex. Detox this week? Oh yes, indeed.
It's freezing cold and yet people still walk around in tube tops and short shorts. Perhaps that is the sign a person has been here too long.
I met a man from Argentina. He used to work for Bush's brother and now works for the World Bank. He wishes to see me again next week. He's moving to New York to get into the real world. At least he is not like the man from Chile with the perfectly groomed eyebrows who wished to dance and buy me drinks.
And tourists are enough to bring out any homocidal tendencies a person might have.